Everyone needs eye exams, but how do you know when to have one? Understanding some common symptoms can help determine when you should visit your optometrist.
Continue reading to learn more about the 7 signs you need an eye exam.
7 Signs You Should See Your Eye Doctor
Regular eye examinations are vital for protecting your eye health. Your eye doctor can identify different eye diseases that can affect your vision. While eye exams are important, it can be difficult to know when you need one.
Understanding some of the signs you need an eye exam can help you determine whether or not to book an appointment. Here are 7 signs you need an eye exam:
Blurry Vision
Blurry vision is a common sign of many different eye conditions. It's most commonly associated with refractive errors, but it can mean something more significant is affecting you.
Blurred vision can occur in your entire visual field or certain parts of it, such as your peripheral vision or a single eye. It can seem insignificant when your vision is blurry, but this condition is a sign of several eye conditions, including:
Blurry vision can mean many things, so it's always a good idea to visit your eye doctor if you experience it. If blurry vision occurs alongside severe headaches or eye pain, seek medical attention to protect your ocular health.
Headaches Behind Your Eye
Everyone experiences headaches at some point, but they shouldn't be a consistent problem. A headache may happen randomly, but it can be a symptom of an eye issue, especially if you feel pain behind your eyes.
A headache behind your eyes can be a sign of eyestrain. Most headaches go away on their own, but seek treatment if you experience them frequently. Your optometrist can help determine the cause of your headaches.
Dry Eyes
If your eyes feel irritated and watery, you may be suffering from dry eye disease. It's a common and chronic condition where your tears cannot keep your eyes lubricated. Issues can arise when there are complications within your tear film.
Dry eyes can feel like a normal part of life, but the associated inflammation can damage your eye's surface. Visit your optometrist for an eye exam if you experience frequent dry eye symptoms, such as:
A stinging, burning or scratching sensation
Mucus in or around the eyes
Light sensitivity
Eye redness
Foreign object sensation
Difficulty wearing contact lenses
Watery eyes
Blurred vision
Eye fatigue
Difficulty Seeing at Night
You're likely to experience this symptom when transitioning from a bright environment into a darker one. Night vision issues is typically a symptom of an underlying condition, such as:
Cataracts
Age-related macular degeneration
If you struggle to see at night, refrain from driving in the evening and book an appointment for a comprehensive eye exam. Your optometrist can determine the cause of your night vision issues and recommend a specific night vision lens coating to help with this condition. .
Eye Pain
Eye pain is concerning no matter the severity. Pain around your eyes may be a nonissue, but only your eye doctor can determine the cause of your discomfort. It can be a sign of several eye conditions, including:
Allergies
Eyelid inflammation
Corneal abrasion
Dry eyes
Foreign object in the eye
Glaucoma
Conjunctivitis
If you develop severe or sudden eye pain, see your optometrist for an assessment. Severe eye pain alongside other symptoms can be a sign of an emergency.
Light Sensitivity
Light sensitivity is a condition where bright lights hurt your eyes. The severity of this condition can range—lights may cause you to squint or feel pain.
Light sensitivity can be a symptom of several eye conditions like corneal abrasions, dry eyes, or keratoconus.
It's Been a While Since Your Last Appointment
Unless you experience visible problems, there may be long periods between your eye exams. Visiting your eye doctor can seem like a waste of time if you can see fine, but you never know what's happening internally.
Many eye diseases can develop with little to no noticeable symptoms, and the only way to identify these issues is during a comprehensive eye exam. You should see your optometrist regularly to catch any potential problems.
If you're an adult between 20 to 64 years old, you should have an eye exam at least every 2 years. Older adults and those at-risk should receive an annual examination.
These are the recommended guidelines from the Canadian Association of Optometrists but listen to your eye doctor's recommendation. They may want to see you for more frequent examinations.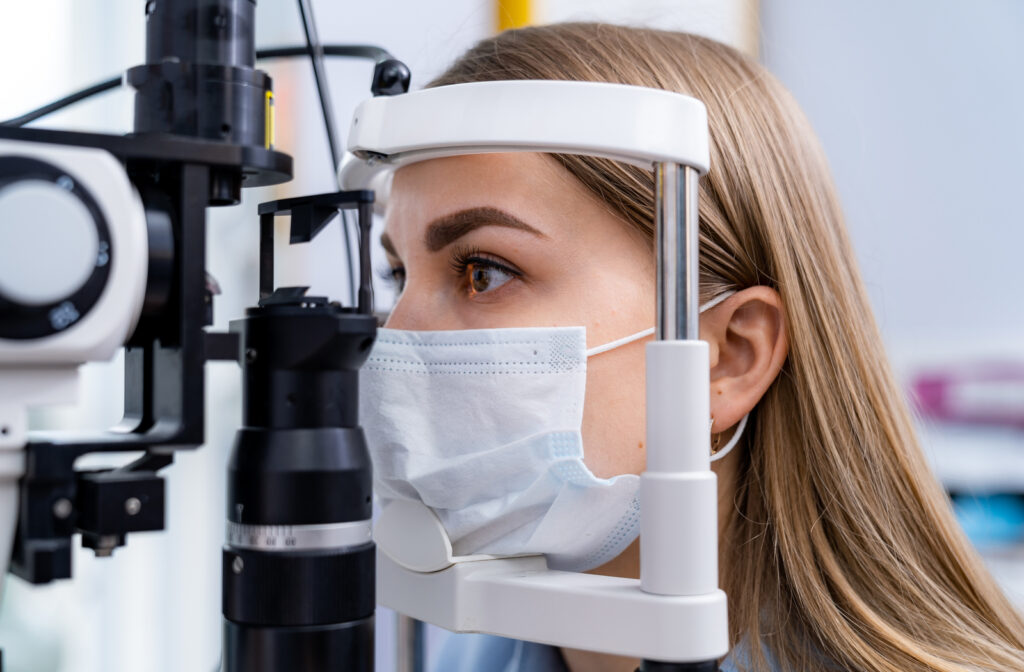 Don't Ignore Signs of a Problem
If you're experiencing any of these signs, book an eye examination. Eye pain, dryness, and other symptoms can seem insignificant, but they may be a sign of an underlying issue.
If you have symptoms of an eye condition, or it's been a while since your last examination, contact your optometrist.