About: Dr. Cynthia Markarian Bahoshy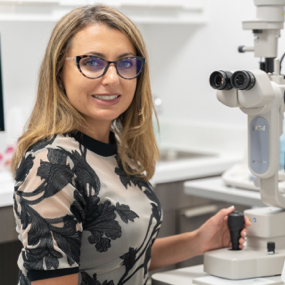 How many doctors does it take to change a lightbulb?"
One or two.
Clear, comfortable vision is such an integral and important part of our lives. I enjoy interacting with our patients, learning about them and their visual needs and I get great satisfaction when I can improve their quality of life by providing them with optimal eyesight at the same time as screening for and treating potentially sight-threatening conditions.
I have been an optometrist at Brantford Eye Care (previously known as Dr. Robert Schumacher and associates) since 2002. I became the new owner of Brantford Eye Care in October 2012.
I attended the University of Ottawa where I studied Biochemistry as part of my undergraduate Bachelor of Science degree. I completed my Doctor of optometry (OD) degree at the University of Waterloo in 2002.
My externship was completed at the Houston Eye Associates in Texas. During that time, I gained extensive experience in all aspects of ocular health diagnosis and management. This included exposure to various retinal conditions, glaucoma, cataracts, children's vision, binocular vision, and other aspects of ocular disease.
I worked as a student researcher at the Centre of Contact Lens Research at the School of Optometry, University of Waterloo where I gained extensive experience in all aspects of contact lenses. I also worked as a student researcher at the Ottawa General hospital in the Department of Ophthalmology during my university years.
I am an active member of the Ontario Association of Optometrists, The Canadian Association of Optometrists, the Ontario College of Optometrists, and the Hamilton and District Area Society of Optometrists. I am certified in the Treatment and Management of Ocular Diseases.
My main interests are in dry eyes, contact lenses, and in children's vision. I have experience working as an optometrist at a Toronto LASIK centre and I am able to answer any questions you may have regarding LASIK and other refractive surgeries. We are affiliated with the various LASIK centres and can refer you for a complimentary LASIK consultation as well as perform your pre and post-op examinations at our office.
I enjoy many activities such as swimming, yoga, playing the piano, and spending time with my family. I enjoy solving visual issues and challenges and meeting new people.
I've been very fortunate to have met so many wonderful patients and families at our office. I enjoy being a part of Brantford's health care team and look forward to seeing you at the office!
Posts by Dr. Cynthia Markarian Bahoshy: