Regular eye exams are important, especially as you get older. The tests your optometrist performs in your exam can help identify eye diseases in their earlier stages.
Eye exams are essential, but how much do they cost?
The Cost of Eye Exams
An eye exam's cost can vary in Ontario, based on the clinic. Some clinics may have shorter eye exams, while others may offer more in-depth exams.
Speaking with your optometrist's office before your exam can be beneficial when budgeting for an eye exam. The Ontario government doesn't have any control over optometry pricing.
The Ontario Health Insurance Plan Can Help
The Ontario Health Insurance Plan (OHIP) can help cover some of your annual eye exam costs. OHIP coverage differs depending on your age and eye health.
Those 19 years and younger are eligible for one major eye exam every 12 months.
Additionally, anyone between 20 to 64 with a diagnosed eye problem may be eligible for an eye exam every 12 months under OHIP.
Effective September 1, 2023, seniors 65 years and older with eligible medical conditions such as macular degeneration, glaucoma, or diabetes are covered for 1 eye exam and 2 minor follow-up appointments every 12 months.
Other seniors without an eligible medical condition can receive an eye exam and 2 minor follow-up appointments every 18 months.
Remember to check your coverage before your next exam.
What Happens During an Eye Exam?
A lot happens during your eye exam, but the number of tests can vary from patient to patient. Your optometrist can cater your eye exam to meet your vision and eye needs, including further testing or a more detailed look at your eyes.
Your eye exam includes many diagnostic tests, from visual acuity to eye health evaluation.
Preliminary Tests
Preliminary tests help your eye doctor get an initial impression of your eye health. They may test your depth perception, eye muscle movements, peripheral vision, or colour vision.
Medical History
Medical history is an important part of your eye exam. Your eye doctor asks several questions about your life, including your lifestyle, hobbies, work, previous medical issues, and family history.
Learning more about your lifestyle and medical history helps your optometrist discover more about you and your vision needs.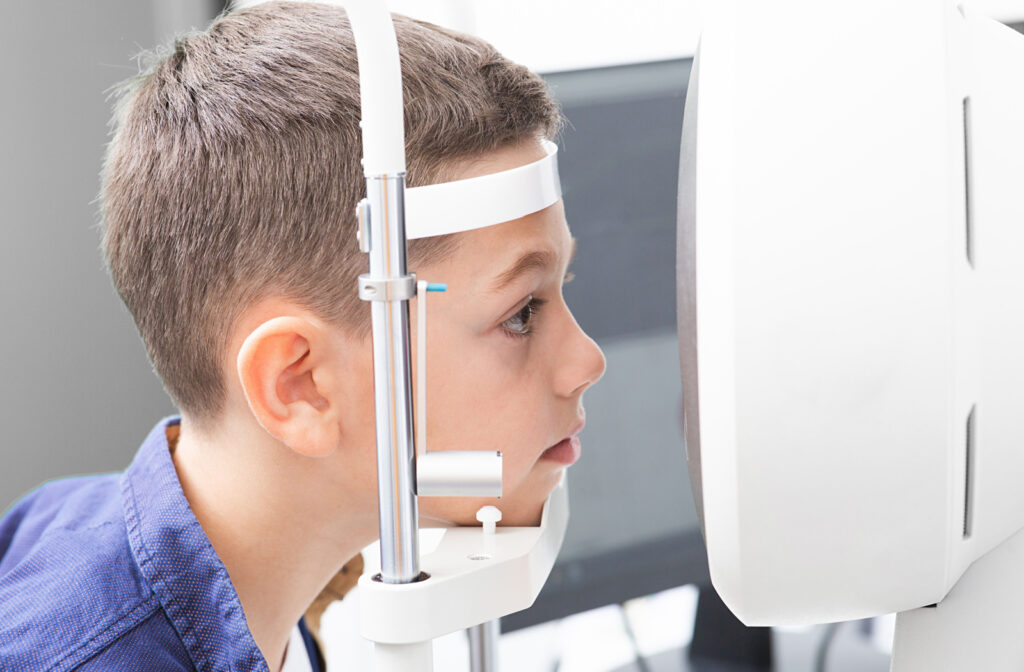 Visual Acuity & Refraction
Visual acuity is the sharpness of your vision, which your optometrist tests using a Snellen eye chart. This chart determines how well you can see from different distances. The results of this test can help your optometrist diagnose a refractive error like myopia or hyperopia.
Refraction helps determine your prescription. Your optometrist uses a phoropter, a diagnostic tool, to determine the lenses you need to see clearly.
Eye Coordination
Your eyes need to work together to help you see effectively. Certain eye conditions can affect your eye coordination, even if you can see clearly.
Your eye doctor will assess your eye coordination during your eye exam, checking your accommodation and binocular vision. These tests help identify problems with focusing.
Eye Health Evaluation
Your eye health evaluation is a vital part of your eye exam. Your eye doctor uses diagnostic technology to examine the eye's internal structures, including the retina, macula, optic nerve, and more.
This examination can help diagnose eye diseases as early as possible, protecting your sight from unnecessary damage. Depending on your medical history and current eye health, your eye doctor may take extra time to look for potential problems.
Some clinics have more technology and incorporate imaging in their eye exams.
Your optometrist has access to different diagnostic tools to examine your eyes, including:
How Long Is an Eye Exam?
An eye exam can vary in length, depending on your needs. Rarely clinics may have an eye exam completed in 15 minutes, while most clinics take 20-45 minutes. You may have a longer eye exam if your optometrist wishes to do more tests.
Why Are Eye Exams Important?
Your optometrist does more than assess how well you can see in an eye exam—they help safeguard your vision. Eye exams can help assess the overall health of your eyes and vision.
Your exam includes many tests that help evaluate different aspects of your eye health. These tests help your optometrist identify issues as early as possible. The earlier you diagnose a problem, the better your chances of recovery.
How Often Should You Visit Your Eye Doctor?
Eye exams are important for your eye health and vision. They aren't something you have once every 5 years. Consistent visits to your eye doctor can help identify problems before they significantly affect your vision.
According to the Canadian Association of Optometrists, adults 19–64 without any known eye problems should have an eye exam at least every 2 years. Adults over 65 should have an annual eye exam to track potential changes to their vision. If you're at risk of an eye condition or have another medical condition, your optometrist may want to see you more frequently.
They'll recommend an ideal eye exam schedule based on your unique needs.
Book Your Next Eye Exam
Don't assume your eyes are perfect if you don't notice any immediate problems. Regular eye exams are the best way to keep your sight safe. Book an appointment with Brantford Eye Care when it's time for your next eye exam.