Vision therapy is a supervised program for effectively treating impaired visual function. With vision therapy, patients develop the skills they need to cope with learning-related vision problems and other visual disorders.
The recommendation is that the patient complete this vision therapy with a trained vision therapist under the supervision of an optometrist. However, supplemental exercises continue at home between in-office sessions.
Vision therapy aims to restore or achieve a clear, comfortable vision. Let's delve more into vision therapy and how it works.
All About Vision Therapy
Vision therapy is non-surgical, non-invasive, drug-free, and safe for children and adults. Vision therapy isn't just eye exercises.
They are based on neuroplasticity and retraining the brain, creating new neural pathways, and strengthening the neural connections between the brain and the eyes to reinforce visual skills. So, what are visual skills?
There are 17 visual skills that we need to succeed in everyday life. Some of them include:
Tracking or eye movement accuracy
Focusing control
Convergence which is the coordination of the two eyes
Visual acuity
Depth perception
Visual skills are vital for reading, learning, and even playing sports. Factors affecting them include brain injuries, like concussions or stroke, neurological issues, and other visual challenges.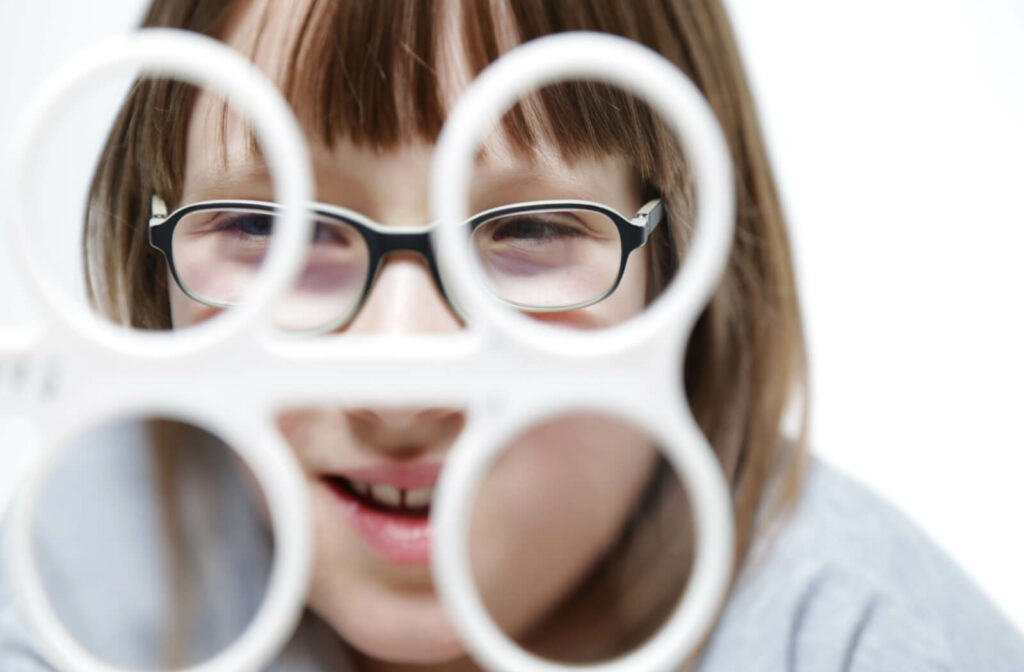 Symptoms indicating a vision problem can include:
Headaches
Dizziness
Eye strain
Discomfort
Reading problems
Eye movement issues
Double or blurry vision
Poor performance
How Does Vision Therapy Work?
A visit to your optometrist and a comprehensive eye exam is the first step before beginning a vision therapy program. Eye exams for children and adults help your vision therapist and optometrist determine the best therapies tailor-made to your individual needs.
Vision therapy includes eye exercises, with the use of some or all of the following:
Lenses
Prisms
Filters
Patches
3-D activities
Virtual reality
Balance boards
Electronic targets
In-office vision therapy can start with weekly one-on-one sessions, which can last between 30 minutes to 1 hour. At-home vision therapy is in the form of daily homework between sessions.
Repeating tasks and exercises enhances vision in the following ways:
Coordination
Strengthens and improves eye movement
Focusing ability
Straightening eye alignment
Length of treatment varies, lasting anywhere from weeks, months, and sometimes even a year or more. Success and results can range from patient to patient, motivation, compliance, and maintenance of therapies.
The treatment program depends on the vision problem, the patient's age, and how long the problem has existed. Your eye doctor may recommend one therapy or a combination of them. Vision therapy programs also include regular checks to ensure progression.
Vision therapy techniques are different for every condition. They can sometimes be as simple as prescribing glasses or contacts, and other times, glasses and contacts are not effective alone. Other equipment and instruments help increase the eye's ability to see and the ability of the brain to understand that visual information.
Most visual therapy techniques engage specific movements that can benefit individuals who struggle with activities such as reading or writing. Many devices come equipped with virtual reality environments allowing for personalization and workouts for different visual challenges.
Vision therapy benefits children and adults with the following conditions:
Amblyopia or lazy eye
Strabismus or crossed eye
Double vision
Eye strain
Depth perception
Brain injury
Children suffering from poor eye movement, eye teaming, eye focusing, and visual processing skills benefit from vision therapy. A child might need vision therapy if they show the following signs:
Poor reading comprehension
Headaches during close-up tasks
Words running together when reading
Forgetfulness
Short attention span
Writing that slopes up or downhill
Holding objects close to the face
Omitting small words while reading
Clumsiness
Improving Visual Skills for Better Vision
Vision therapy strengthens the eyes' ability to adjust to focus on objects and recognize things in the environment. It's also for eye muscle strength and coordination.
Depending on the visual condition, therapy can positively affect one's lifestyle. By undergoing vision therapy, the patient may find themselves looking at life in a whole new way.
Vision therapy should be started by first consulting your eye doctor. They can provide more specific information and a personalized treatment program to help improve vision. Book an appointment with Brantford Eye Care today to learn how vision therapy can work for you.